Dunseith / Boissevain – International Peace Garden – U.S. Highway 281 / Manitoba Highway 10
This is one of only three 24 hour border crossings in North Dakota and is the 3rd most heavily traveled   It is also the site of the well known International Peace Garden.  This crossing is about midway along the Turtle Mountain Scenic Byway.
If you visit the International Peace Garden from either the U.S. or Canada you will need to go through a border checkpoint when you leave. This is true whether you are returning to your country of origin or continuing across the border.  You must therefore have the normal documentation required to cross the border. You will also need to be ready to make the normal Customs declarations about about any food items, alcohol, etc that you may be carrying, so review our page on Going Through Customs.
Dunseith and Boissevain Border Crossings Port Information
Open 24 hrs, 7 days a week, year around
Commercial Services are available only M-F with more limited hours. Call the border office for more information
Current Road Conditions in North Dakota and Manitoba
We have special pages showing all current road reports for the State of North Dakota and the Province of Manitoba. These pages show weather problems such as roadway snow or ice, lane closures, accidents, construction, road restrictions, and roadwork around the border crossing.
International Peace Garden Border Crossing Travel Tips
The International Peace Garden is an unusual park that straddles the North Dakota and Manitoba border in the Turtle Mountains. It was established in 1932 as a symbol of the peace between the two nations. It is a large park with over 2,200 acres that includes a huge formal garden that puts on a variety of annual displays. You will also find picnic areas, campgrounds, hiking trails, bike paths and a wildlife refuge. The garden attracts thousands of visitors while also hosting a range of events such as weddings, conventions, and reunions.
The International Peace Garden does not require any identification for entrance and you may move throughout the park without restriction. However, upon leaving, you will report to the port of entry of whichever country you are entering. At that time you will need to present the typical documents required to cross the border into either the U.S. or Canada.
Here is a handy link to hotels near Dunseith ND and here is another link to hotels nearest Boissevain Manitoba in Canada.
There is a Duty Free Shop at this border crossing.  Phone 701-263-3147.
North Dakota utilizes the 511 Traveler Information system where you can receive up-to-date, location-specific road and weather information on any highway in North Dakota. You simply dial "511" from any phone to reach this system. You can also call 1-866-696-3511.
North Dakota Winter Road Reports are issued via the 511 system at various intervals between 5:00 AM and 9:00 PM daily, typically from November through mid-April.  They are issued more frequently during severe weather events.
North Dakota Summer Road Reports are issued mid-April through October on the 511 system once daily or more often if  conditions warrant.
Telephone Numbers for the Ports of Entry at Dunseith and Boissevain
Dunseith U.S. Customs Office Telephone Number: (701) 263-4460. The Dunseith Port Office is located at the intersection of Hwy 5 & 3
To contact Canadian Customs or other border patrol services at Boissevain call the Canadian Border Information Service (BIS) which can answer your questions or transfer you directly to the Canadian port.
International Peace Garden GPS Coordinates, Longitude and Latitude:
48.999234, -100.052324
Webcam Showing Road Conditions Near the Boissevain Border Crossing
This is the nearest webcam to the the U.S. and Canadian ports of entry. You will likely need to refresh your browser to see a current webcam image.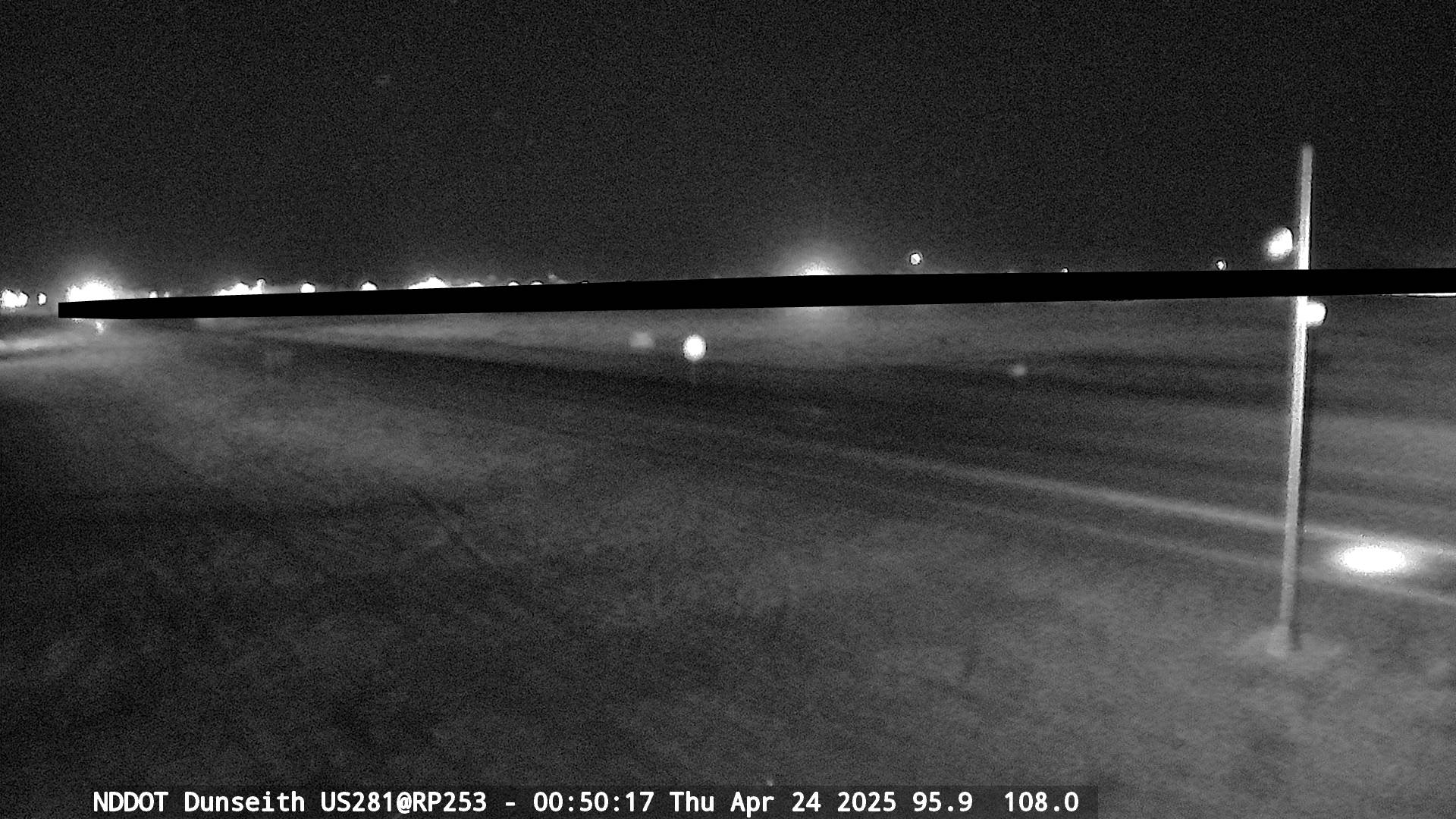 Peace Garden Ports of Entry Location and Traffic Map
To view Current Traffic Conditions at this border crossing, select "View Larger Map" and turn on the traffic layer.