Alburg / Noyan – VT 225 / QC 225
This is a VERY quiet border crossing, with reports of 20 or so cars at peak crossing periods. U.S. and Canadian border officials share the same building.
Before heading to the border, be sure to review our pages on preparing for customs and prohibited items.
Alburg / Noyan Port Information
Hours of Operation – 24 hours a day, 7 days a week, year-round.
Call the Customs office for information on commercial Services.
No NEXUS or FAST lanes.
Travel Tips for the Alburg / Noyan Border Crossing
Here is a handy link to hotels in Vermont and here is another link to hotels in Quebec Province on the Canadian side of the border.
Given how secluded this crossing is, border guards have been know to quiz travelers closely about why they are using it and how they even know it exists.
You can get 24/7 information on weather-related road conditions, construction and congestion by calling 5-1-1 within Vermont or by dialing 1-800-ICY-ROAD.
Québec also has the 511 telephone service, available 24/7, which provides road conditions information. From within Quebec province, call 511 on any phone. You can also reach it from anywhere in North America by calling 1(888)355-0511 toll free.
GPS coordinates – Latitude & Longitude: 45.011563, -73.29635
Quebec and Vermont Road Advisories
We have a special page showing all current road advisories for the northern part of the State of Vermont and Quebec. This page lists all lane closures or blockages, road restrictions, traffic problems, warnings, and roadwork.
ALBURGH WEATHER
Traffic Camera on VT Highway 78 Near the Alburg Border Crossing
You will need to refresh the page to get the current web camera view.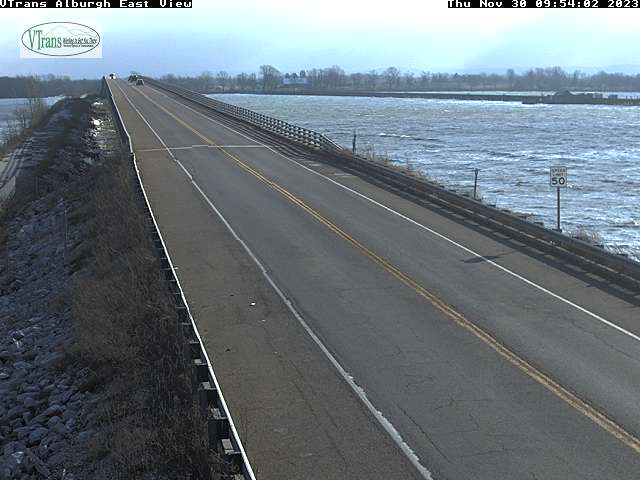 Alburg / Noyan Port of Entry Location Map
To view current traffic conditions at this border crossing, select "View Larger Map" and turn on the traffic layer.
Contact Information for the Alburg and Noyan Ports of Entry
U.S. Border Office Contact Information: (802) 796-3703
To contact Canadian Customs or other border patrol services at this port, call the Canadian Border Information Service (BIS), which can answer your questions or transfer you directly to the Canadian port.