Metaline Falls / Nelway Border Crossing
The Metaline Falls / Nelway border crossing is located on Washington Hwy 31 and British Columbia Hwy 6.
Metaline Falls / Nelway Port Information
US Border Crossing: 8am to 8pm
Canadian Port: 8am to 12 pm
Limited border hours may change.  Call border office or confirm hours of operation.
You can get traffic information for Washington over the phone using the 511 system. Simply dial 5-1-1 and say "traffic". If you cannot dial 511 on your phone you can also use the toll-free number 1-800-695-7623
To hear current road conditions in British Columbia you can call (800)-550-4997.
Port GPS coordinates- Latitude & Longitude: 48.999901, -117.29992
Current Road Conditions in Washington and British Columbia
We have special pages showing all current road advisories for the State of Washington and the Province of British Columbia. These pages show problems such as roadway accidents, snow or ice, lane closures or blockages, construction, road restrictions, traffic problems, and roadwork around the border crossing.
Telephone Numbers for the Border Customs Offices at Metaline Falls and Nelway
Metaline Falls U.S. Customs Office Telephone Number: (509) 446-4421
To contact Canadian Customs or other border services at this port call the Canadian Border Information Service (BIS) which can answer your questions or transfer you directly to the Canadian port.
Webcams of Road Conditions Near the Metaline Falls / Nelway Border Crossing
These webcams show the road conditions near the port of entry. You may need to refresh your browser to see current conditions.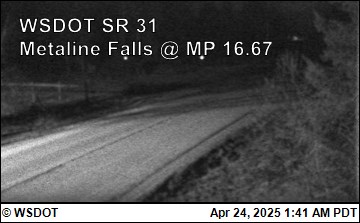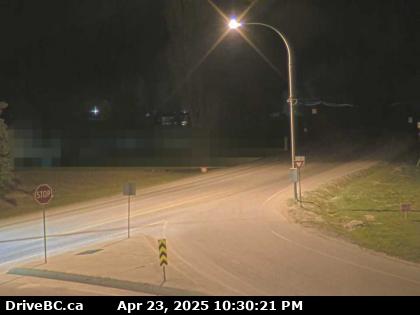 Metaline Falls / Nelway Port of entry Location and Traffic Conditions Map
"To view Current Traffic Conditions at this border crossing, select "View Larger Map" and turn on the traffic layer

Traffic Alerts for Northeast Washington
Below are the travel alerts issued by the Washington State Department of Transportation for Northeast Washington which includes the area around the border crossing. This reports all major accidents, weather related problems, construction and other events that may affect your travel.

MODERATE IMPACT

SR 290 Both Directions
- SR 290 closed for bridge replacement starting near MP 0.5 at the Spokane River, City of Spokane, EB 290 is closed at Hamilton Street, WB 290 is closed at Iron Court, commercial vehicles are diverted to Freya Street, all other traffic can use Mission Street, beginning at 6:18 am on June 3, 2020 until further notice. Follow signed detour route and expect delays. Last Updated: 6/3/2020 8:04 AM More Info
From milepost 1 to milepost 2
MODERATE IMPACT

Wellesley Both Directions
- The City of Spokane: Starting Wednesday, Nov. 20, contractor crews working for the Washington State Department of Transportation will begin constructing the North Spokane Corridor (NSC) Wellesley Avenue interchange. During this time, Wellesley Avenue between Market Street and Freya Street will be closed to pedestrian, bicycle and vehicular traffic. The closure and interchange work will last until the end of 2022. Please use alternate routes. Last Updated: 11/12/2019 8:53 AM More Info
LOW IMPACT

SR 20 Both Directions
- SR 20, Sherman Pass is: bare and wet, ice in places. There are no restrictions at this time. Last Updated: 1/20/2021 11:49 PM More Info
From milepost 315 to milepost 320
LOW IMPACT

I-90 Both Directions
- I-90 from US-195 to Broadway: bare and dry. Last Updated: 1/20/2021 10:37 PM More Info
At milepost 280
LOW IMPACT

I-90 Both Directions
- I-90 from Broadway to Idaho State Line: bare and dry. Last Updated: 1/20/2021 10:36 PM More Info
At milepost 290
LOW IMPACT

US 2 Both Directions
- US-2 from Spokane to Newport: bare and dry. Last Updated: 1/20/2021 10:36 PM More Info
At milepost 320
LOW IMPACT

US 395 Both Directions
- US-395 from Spokane to Clayton: bare and dry. Last Updated: 1/20/2021 10:36 PM More Info
At milepost 180
LOW IMPACT

US 2 Both Directions
- US-2 from I-90 to Davenport: bare and dry. Last Updated: 1/20/2021 10:36 PM More Info
At milepost 270
LOW IMPACT

US 395 Both Directions
- US-395 from Clayton to Colville: bare and dry. Last Updated: 1/20/2021 10:35 PM More Info
At milepost 220
LOW IMPACT

I-90 Both Directions
- I-90 from SR-904 to US-195: bare and dry. Last Updated: 1/20/2021 10:35 PM More Info
At milepost 270
LOW IMPACT

Geiger Bv Both Directions
- Spokane County will have lane restrictions on Geiger Blvd between Soda Road and Electric Ave (Spokane City Limits) for road work starting on August 17th to about June 30, 2021. Use other routes and expect delays. Last Updated: 1/10/2021 8:30 AM More Info