Oroville / Osoyoos Border Crossing – U.S. Hwy 97 / BC Hwy 97
Port Information
Hours of operation: 24hr service year-round.
FAST Lanes are available.
Entering Canada – Typically 1 lane only, 2nd lane in summer daytime, 3rd lane on occasion.
Entering the U.S. – three multi-purpose traffic lanes, two lanes dedicated for trucks and one bus lane. Truck lane not always open.
Traffic Camera at the Oroville and Osoyoos Port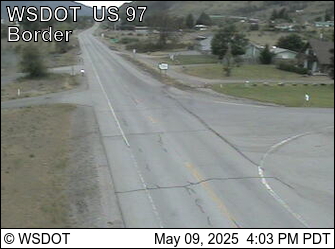 Webcam on US 97 at Oroville Port of Entry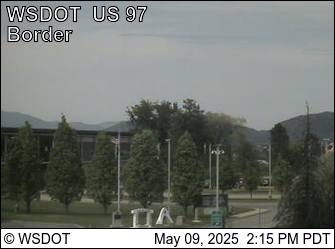 Traffic camera on US-97, 1 mile south of the U.S./Canada border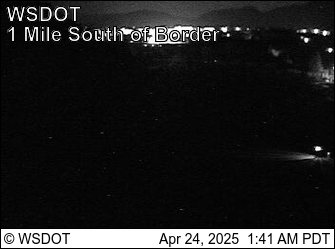 Current Road Conditions in Washington State and British Columbia
The pages below show problems around the border crossing, such as roadway snow or ice, lane closures or blockages, road restrictions, traffic problems, and roadwork.
OROVILLE WEATHER
Map of Oroville / Osoyoos Border Crossing Area
To view the Current Traffic Conditions at the Oroville and Osoyoos border crossing, select "View Larger Map" and turn on the traffic layer.
Travel Tips for the Oroville / Osoyoos Customs and Border Crossing
Here is a handy link to hotels in Washington state, and here is another link to hotels in British Columbia, Canada.
Friday and Sunday afternoons – busiest times of the week with waits up to 1hr.
Busiest time of year is the British Columbia Day long weekend in August.
There are Traffic Advisory Signs when you're traveling northbound on Hwy 97. The first sign is located near the Okanogan River, just south of Oroville, and the second sign is located near the intersection of Hwy 97 and Westlake Road near the Prince's Foods supermarket.
You can get customized traffic information for Washington over the phone using the 511 system. Simply dial 5-1-1 and say "traffic." Next say the road number, such as "5," and receive up-to-the-minute updates on the road segment you plan to use. If you cannot dial 511 on your phone, you can also use the toll-free number, 1-800-695-7623.
To hear current road conditions in British Columbia, you can call (800)-550-4997.
There is an Osoyoos Duty Free shop at 500 97th St, Osoyoos, BC V0H 1V0, Canada. Their telephone number is 250-495-7288.
There is a Duty Free Americas shop at 33606D US-97, Oroville, WA 98844. Their telephone number is (509) 476 – 3114. Hours: 8am to 7pm, 7 days a week.
Oroville / Osoyoos GPS coordinates – Latitude & Longitude: 49.000239, -119.46225
Telephone Numbers for the Border Customs Offices at Oroville / Osoyoos
Oroville U.S. Customs Office Telephone Number: (509) 476-2955.
To contact Canadian Customs or other border services at this port, call the Canadian Border Information Service (BIS), which can answer your questions or transfer you directly to the Canadian port.