This page contains current information on traffic conditions, border wait times, weather and road conditions for the Lynden / Aldengrove border crossing. Hit F5 to refresh the page.
Wait Times at the Lynden and Aldergrove Border Crossings
Entering the U.S. at Lynden
Hours of Operation: 8 am-Midnight
3/8/2014
Entering Canada at Aldergrove
2014-03-08 04:57 PST
Personal Vehicles
Update Pending
No delay
NEXUS
Update Pending
Ready Lane
Update Pending
Commercial Vehicles
Update Pending
No delay
FAST
Update Pending
Map of Lynden / Aldergrove Border Crossing Area Showing Traffic Conditions
Current traffic conditions are shown in color if data is available. You can toggle traffic on or off by clicking the "Traffic" button. This map is interactive so you may zoom in or out.

Current Road Conditions in Washington State and British Columbia
We have special pages showing all current road advisories for the State of Washington and the Province of British Columbia. These pages show problems such as roadway snow or ice, lane closures or blockages, road restrictions, traffic problems, and roadwork.
Traffic Conditions Entering the U.S. from Canada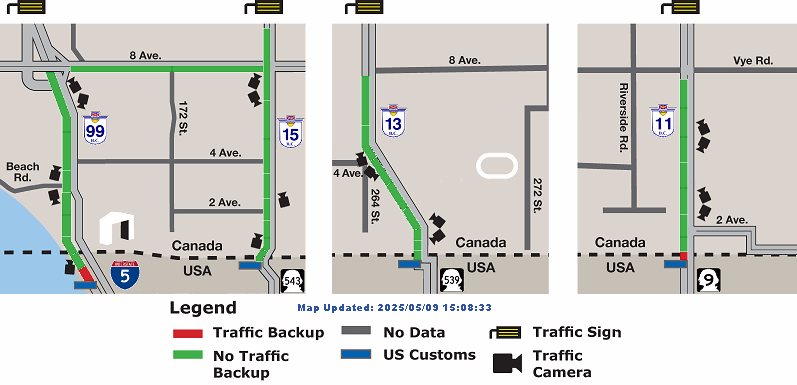 Click an icon below to print, email, or share this page with friends, family, or colleagues: