Sumas / Abbotsford (Huntingdon) Traffic Conditions
This page contains current information on traffic conditions, border wait times, weather and road conditions for the Sumas / Abbotsford (Huntingdon) border crossing. You may need to refresh this page periodically to get current information.
For  complete information on this border crossing including times of operation and contact information see our Sumas / Abbotsford (Huntingdon) page.
Wait Times at Sumas Abbotsford Border Crossing
Entering the U.S. at Sumas
Entering Canada at Abbotsford

Personal Vehicles
At 6:00 pm PDT
no delay
3 lane(s) open
5 minutes
NEXUS
Lanes Closed
Ready Lane
N/A
Commercial Vehicles
At 6:00 pm PDT
no delay
1 lane(s) open
No delay
FAST
N/A
Map Showing Current Traffic at the Sumas / Abbotsford (Huntingdon) Border Crossing Area
Current traffic conditions are shown in color if data is available. You can toggle traffic on or off by clicking the "Traffic" button.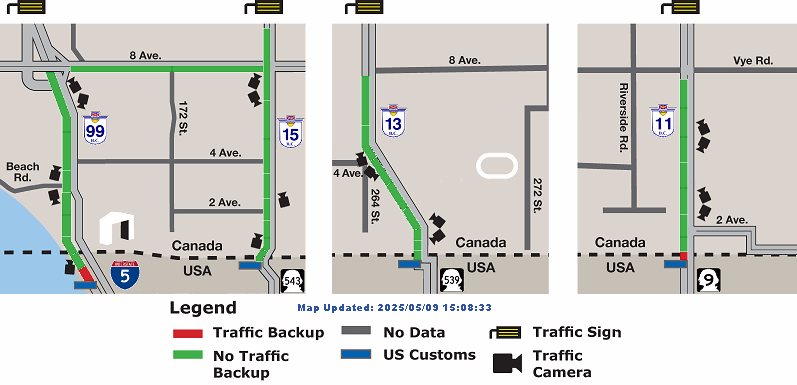 Washington State and British Columbia Road Conditions
Below are travel alerts issued by the Washington State Department of Transportation for the area around the border crossing.   We also have special pages that show road conditions in Washington and British Columbia including weather problems such as snow or flooding, major accidents, construction and other events that may affect your travel.

MODERATE IMPACT
SR 20 Both Directions
- SR 20 over Washington and Rainy passes in the North Cascades remains closed from milepost 134 near Diablo on the west side of the pass to milepost 171 on the east side, eight miles west of Mazama.
Spring reopening work began from the west side March 26 and on the east side April 9. During the clearing recreationists are not allowed past the gates Monday through Thursday. Last Updated: 4/17/2018 11:01 AM More Info
From milepost 134 to milepost 171
MODERATE IMPACT
US 2 Both Directions
- The Iron Goat Rest Area on US 2 at milepost 58, six miles west of the summit of Stevens Pass, is closed for the winter. Last Updated: 4/13/2018 4:05 PM More Info
At milepost 58
MODERATE IMPACT
SR 20 Northbound
- On SR 20 from Winthrop east to Beaver Creek Road Monday-Thursday 6 a.m. to 4:30 p.m., expect short delays with flaggers and a pilot car where the Twisp WSDOT maintenance crew is crack sealing 12 miles of deficient travel lanes. Last Updated: 4/13/2018 3:53 PM More Info
From milepost 193 to milepost 208
MODERATE IMPACT
SR 530 Both Directions
- Monday, April 16, to Friday, April 20 - A single lane of either direction of State Route 530 between the Stillaguamish River Bridge and Lake Cavanaugh Road will be closed from 5 a.m. to 5 p.m. daily. Last Updated: 4/13/2018 2:33 PM More Info
From milepost 22 to milepost 33
MODERATE IMPACT
SR 542 Both Directions
- Monday, April 16 until mid-May - Crews will reduce lanes at SR 542 and the eastern leg of SR 9 at 7 a.m. and will alternate travelers through this area around-the-clock during roundabout construction. Travelers should leave extra time if travel plans take them through this area east of Deming. Last Updated: 4/6/2018 8:58 AM More Info
At milepost 15
MODERATE IMPACT
SR 9 Both Directions
- Monday, April 16 until mid-May - Crews will reduce lanes at SR 542 and the eastern leg of SR 9 at 7 a.m. and will flag travelers through this area around-the-clock during roundabout construction. Travelers should leave a little extra time if travel plans take them through this area east of Deming. Last Updated: 4/6/2018 8:57 AM More Info
At milepost 79
MODERATE IMPACT
I-90 Both Directions
- Flammable cargo is prohibited on I-90 eastbound & westbound from Rainier Ave (MP 3) to 76th Ave SE (MP 7). Last Updated: 4/3/2018 12:57 PM More Info
From milepost 3 to milepost 7
Click an icon below to print, email, or share this page with friends, family, or colleagues: