This page contains current information on traffic conditions, border wait times, weather and road conditions for the Blaine / Surrey border crossing. You may need to refresh this page periodically to get current information.
For  complete information on this border crossing including times of operation and contact information see our Blaine/Surrey page.
Wait Times at the Blaine – Surrey Border Crossings
Entering the U.S. at Blaine  
Hours of Operation – 24 hrs/day
8/21/2019
Entering Canada at Surrey
Personal Vehicles
At 10:00 pm PDT
10 min delay
2 lane(s) open
3 minutes
NEXUS
Lanes Closed
Ready Lane
Lanes Closed
Commercial Vehicles
At 10:00 pm PDT
15 min delay
1 lane(s) open
32 minutes
FAST
Lanes Closed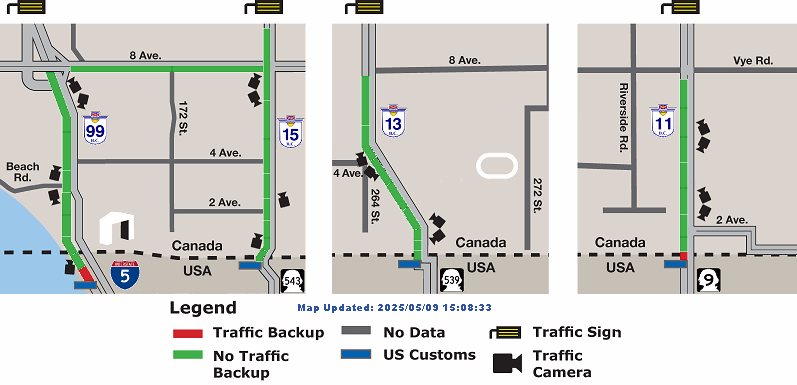 Current Road Conditions in Washington State and British Columbia
We have special pages showing all current road advisories for the State of Washington and the Province of British Columbia. These pages show problems around the border crossing such as roadway snow or ice, lane closures or blockages, road restrictions, traffic problems, and roadwork.
Traffic Conditions Map for the Blaine / Surrey Border Crossing
To view the traffic conditions at the Blaine / Surrey border crossing, select "View Larger Map" and turn on the traffic layer.
Interstate 5 Traffic Alerts
Below are travel alerts issued by the Washington State Department of Transportation for Interstate 5. This includes major accidents, weather related problems, construction and other events that may affect your travel.
HIGHEST IMPACT

I-5 Northbound
- Update 10:54 PM : On the I-5 northbound express lanes to SR 522 (MP 171) there is a disabled vehicle partially blocking the ramp. The State Patrol has arrived on the scene. Last Updated: 8/21/2019 10:54 PM More Info
At milepost 171
LOW IMPACT

I-5 Northbound
- High Impact – Monday, August 19, to the morning of Friday, August 23 – All lanes of the northbound I-5 mainline just north of the I-90 Interchange will close from 11:59 p.m. to 5 a.m. nightly. During this time, all traffic will be shifted to the collector-distributor lanes. Last Updated: 8/19/2019 12:23 PM More Info
At milepost 164
MODERATE IMPACT

I-5 Northbound
- Tuesday, August 20, to the morning of Thursday, August 22 – The northbound I-5 off-ramp to SR 104/Ballinger Way will close from 11 p.m. to 5 a.m. nightly. Last Updated: 8/20/2019 1:32 PM More Info
At milepost 177
MODERATE IMPACT

I-5 Northbound
- Monday, August 19, to the morning of Friday, August 23 – The Cherry Street on-ramp to northbound I-5 will close from 11 p.m. to 4:30 a.m. nightly. Last Updated: 8/19/2019 9:35 PM More Info
At milepost 165
MODERATE IMPACT

I-5 Northbound
- Monday, August 19, to the morning of Friday, August 23 – The two right lanes of northbound I-5 between 8th Avenue South and Pike Street will close from 11 p.m. to 4:30 a.m. nightly. Last Updated: 8/19/2019 9:34 PM More Info
From milepost 166 to milepost 166
MODERATE IMPACT

I-5 Northbound
- Monday, August 19, to the morning of Friday, August 23 – The two left lanes of southbound I-5 at Pike Street will close from 11 p.m. to 5 a.m. nightly. Last Updated: 8/19/2019 9:32 PM More Info
At milepost 166
MODERATE IMPACT

I-5 Northbound
- Monday, August 19, to the morning of Friday, August 23 – The right lane of northbound I-5 at the I-90 Interchange will close from 8 p.m. to 5 a.m. nightly. Last Updated: 8/19/2019 4:48 PM More Info
At milepost 164
MODERATE IMPACT

I-5 Northbound
- Monday, August 19, to the morning of Thursday, August 22 – The Northeast 175th Street on-ramp to northbound I-5 will close from 11 p.m. to 5 a.m. nightly. Last Updated: 8/19/2019 12:30 PM More Info
At milepost 176
MODERATE IMPACT

I-5 Northbound
- Monday, August 19, to the morning of Friday, August 23 – The right lane of northbound I-5 between Northeast 175th Street and SR 104 will close from 10:30 p.m. to 5 a.m. nightly. Last Updated: 8/19/2019 12:29 PM More Info
From milepost 176 to milepost 177
MODERATE IMPACT

I-5 Northbound
- Monday, August 19, to the morning of Friday, August 23 – The three right lanes of northbound I-5 between James Street and Yesler Way will close from 9 p.m. to 5 a.m. nightly. Last Updated: 8/19/2019 12:27 PM More Info
From milepost 165 to milepost 166
LOW IMPACT

I-5 Northbound
- Monday, August 19, to the morning of Friday, August 23 – The northbound I-5 off-ramp to Edgar Martinez Drive will close from 11:59 p.m. to 5 a.m. nightly. Last Updated: 8/19/2019 12:25 PM More Info
At milepost 164
LOW IMPACT

I-5 Northbound
- Monday, August 19, to the morning of Friday, August 23 – The northbound I-5 off-ramp to Seneca Street will close from 11:59 p.m. to 5 a.m. nightly. Last Updated: 8/19/2019 12:24 PM More Info
At milepost 166
MODERATE IMPACT

I-5 Northbound
- Saturday, Aug. 17, to the morning of Friday, Aug. 23 - Up to two lanes of nouthbound I-5 between the Stillaguamish River Bridge and SR 530/SR 534 will be closed from 7:30 p.m. to 5 a.m. nightly. Last Updated: 8/16/2019 4:23 PM More Info
From milepost 209 to milepost 221
MODERATE IMPACT

I-5 Northbound
- Sunday, Aug. 18, to the morning of Friday, Aug. 23 - The right lane of northbound I-5 between 196th Street Southwest/SR 524 and 128th Street Southwest/SR 96 will close from 9:30 p.m. to 4:30 a.m. nightly. Last Updated: 8/16/2019 2:51 PM More Info
From milepost 182 to milepost 187
MODERATE IMPACT

I-5 Northbound
- Sunday, Aug. 18, to the morning of Friday, Aug. 23 - The 164th Street Southwest ramps to northbound I-5 will close from 10 p.m. to 5 a.m. nightly. (Will close at 9 p.m. Tuesday night.) Last Updated: 8/16/2019 2:50 PM More Info
At milepost 184
MODERATE IMPACT

I-5 Northbound
- Sunday, Aug. 18, to the morning of Thursday, Aug. 22 - Up to three lanes of northbound I-5 between Northeast 175th Street and 196th Street Southwest/SR 524 will close from 10 p.m. to 7 a.m. nightly. Last Updated: 8/16/2019 2:49 PM More Info
From milepost 176 to milepost 182
MODERATE IMPACT

I-5 Northbound
- Sunday, August 18, to the morning of Friday, August 23 – The Northeast 70th Street off-ramp to northbound I-5 will close with a signed detour from 9 p.m. to 5 a.m. nightly. Last Updated: 8/16/2019 1:47 PM More Info
At milepost 171
MODERATE IMPACT

I-5 Northbound
- Sunday, August 18, to the morning of Friday, August 23 – The northbound I-5 off-ramp to Northeast 85th Street will close with a signed detour from 9 p.m. to 5 a.m. nightly. Last Updated: 8/16/2019 1:45 PM More Info
At milepost 172
MODERATE IMPACT

I-5 Northbound
- Sunday, August 18, to the morning of Friday, August 23 – The right lane of northbound I-5 between Northeast 70th Street to Northeast 85th Street will close from 9 p.m. to 5 a.m. nightly. Last Updated: 8/16/2019 1:44 PM More Info
From milepost 171 to milepost 172
Click an icon below to print, email, or share this page with friends, family, or colleagues: