Page Updated: Real-time
This page contains current information on traffic conditions, border wait times, weather and road conditions for the Blaine / Surrey Pacific Highway border crossing between the U.S. and Canada. You may need to refresh this page periodically to get current information.
For detailed background information on this border crossing, including times of operation and contact information, see our Blaine/Surrey Pacific Highway page.
Wait Times at the Blaine / Surrey Pacific Highway Border Crossing
Estimated wait time to reach the inspection booth. Updated hourly.
Entering the U.S. at Blaine – Open 24 hrs/day
Last Update: At 2:00 pm PDT
6/6/2023
Entering Canada at Surrey
Last Update: 2023-06-06 14:40 PDT
Personal Vehicles
no delay
10 minutes
NEXUS
no delay
Ready Lane
Lanes Closed
Commercial Vehicles
no delay
5 minutes
FAST
Lanes Closed
Traffic Conditions at Peace Arch, Blaine, and Lynden Ports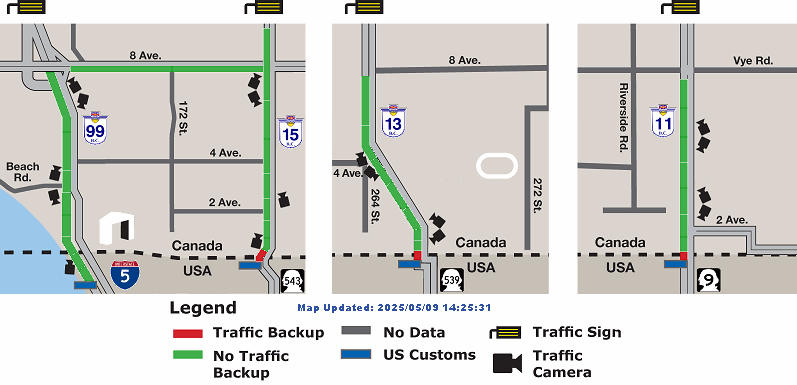 Traffic Camera on B.C. Hwy 15 at U.S. Customs.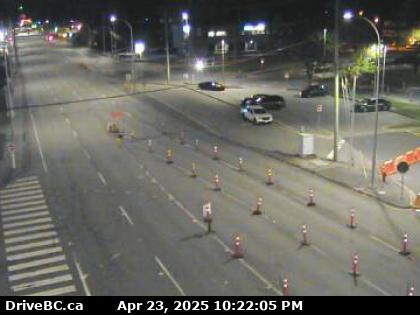 Washington SR543 at H St 1/2 Mile from Customs
SR 543 Truck Spur Approaching Canadian Customs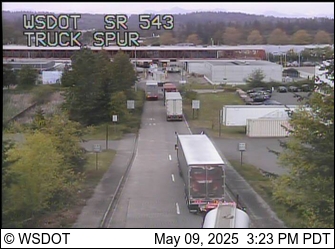 Traffic Conditions Map for the Blaine / Surrey Pacific Highway Border Crossing
To view the traffic conditions at the Blaine / Surrey border crossing, select "View Larger Map" and turn on the traffic layer.
Current Road Conditions in Washington State and British Columbia
We have special pages showing all current road advisories for the State of Washington and the Province of British Columbia. These pages show weather conditions such as flooding, ice and snow plus other problems such as lane closures or blockages, road restrictions, traffic problems, warnings, and roadwork.
BLAINE WEATHER

In addition, you can view critical road advisories for SR-543 from the Washington State Department of Transportation.