Page Updated: Real-time
This page contains current information on traffic conditions, border wait times, weather and road conditions for the Sumas / Abbotsford (Huntingdon) border crossing. You may need to refresh this page periodically to get current information.
For complete information on this border crossing including times of operation and contact information see our Sumas / Abbotsford (Huntingdon) page.
Current Road Conditions in Michigan and the Province of Ontario
We have special pages showing all current road advisories for the State of Washington and the Province of British Columbia. These pages show problems such as roadway snow or ice, lane closures or blockages, road restrictions, traffic problems, and roadwork.
Wait Times at Sumas Abbotsford Border Crossing
Entering the U.S. at Sumas
Entering Canada at Abbotsford

Personal Vehicles
At 8:00 am PST
35 min delay
3 lane(s) open
No delay
NEXUS
Lanes Closed
Ready Lane
N/A
Commercial Vehicles
At 8:00 am PST
no delay
1 lane(s) open
No delay
FAST
N/A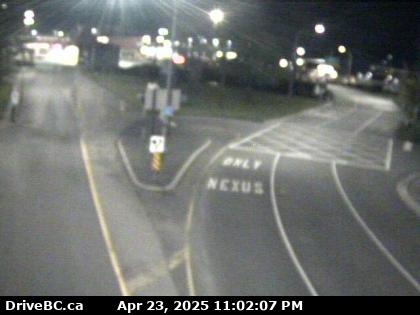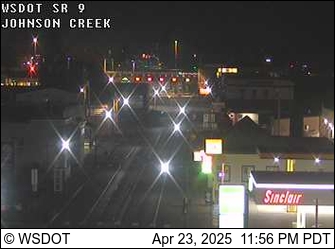 Traffic Conditions at Sumas Abbotsford-Huntington Border Crossing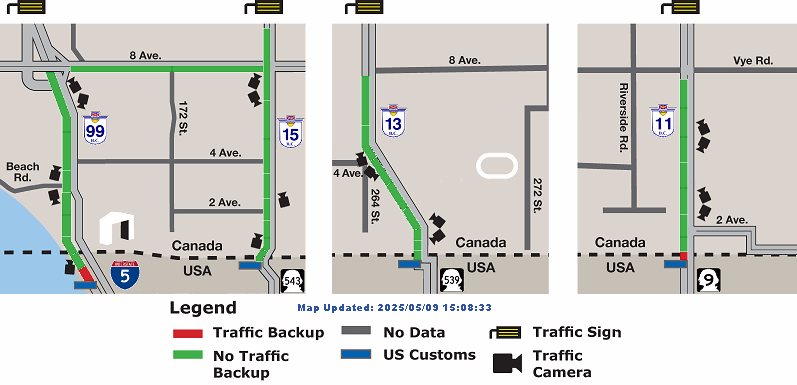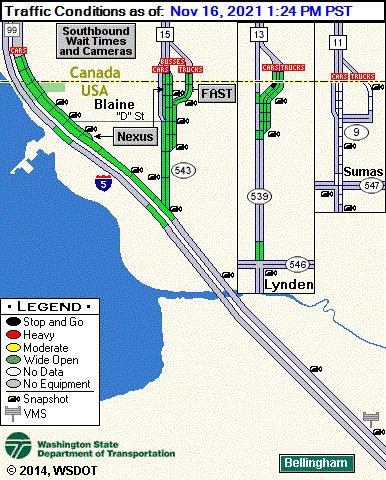 Map Showing Current Traffic Conditions at the Sumas / Abbotsford (Huntingdon) Border Crossing Area
To view the traffic conditions at the Blue Water Bridge border crossing select "View Larger Map".

Washington State and British Columbia Travel Alerts
Below are travel alerts issued by the Washington State Department of Transportation for the area around the border crossing.

HIGHEST IMPACT

I-5 Southbound
- Update 7:55 AM : On I-5 southbound just north of Union St (MP 166) there is a collision blocking the right lane and the right center lane. Medical Aid, Fire Assistance, Tow Assistance, and the State Patrol have arrived on the scene. Last Updated: 2/16/2020 7:55 AM More Info
At milepost 166
MODERATE IMPACT

US 2 Westbound
- The Iron Goat Rest Area on US 2 westbound at milepost 58 4 miles west of Stevens Pass summit is closed for the season. Last Updated: 11/5/2019 12:59 PM More Info
At milepost 58
LOW IMPACT

SR 20 Both Directions
- On SR 20, the North Cascades Highway has closed for the season starting at 6 a.m. on December 11.
On Dec. 20, the eastern closure point moved to milepost 177 at Early Winters Campground due to heavy snowfall. The western closure point is milepost 130/Colonial Creek Campground. Last Updated: 1/23/2020 2:37 PM More Info
From milepost 130 to milepost 177