Page Updated: Real-time
This page contains current information on traffic conditions, border wait times, weather and road conditions for the Sumas / Abbotsford (Huntingdon) border crossing. You may need to refresh this page periodically to get current information.
For complete information on this border crossing including times of operation and contact information see our Sumas / Abbotsford (Huntingdon) page.
Current Road Conditions in Michigan and the Province of Ontario
We have special pages showing all current road advisories for the State of Washington and the Province of British Columbia. These pages show problems such as roadway snow or ice, lane closures or blockages, road restrictions, traffic problems, and roadwork.
Wait Times at Sumas Abbotsford Border Crossing

| | Entering the U.S. at Sumas | Entering Canada at Abbotsford |
| --- | --- | --- |
| Personal Vehicles | | No delay |
| NEXUS | | |
| Ready Lane | | |
| Commercial Vehicles | | No delay |
| FAST | | |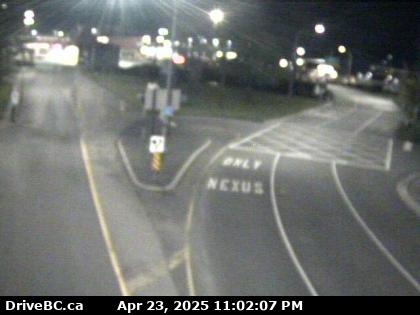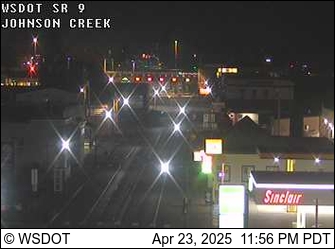 Traffic Conditions at Sumas Abbotsford-Huntington Border Crossing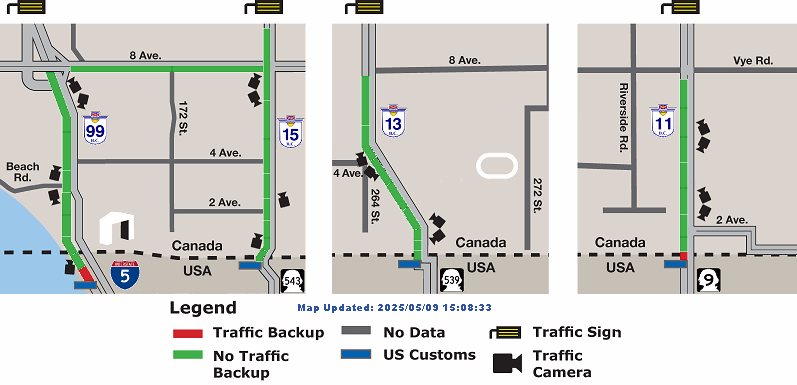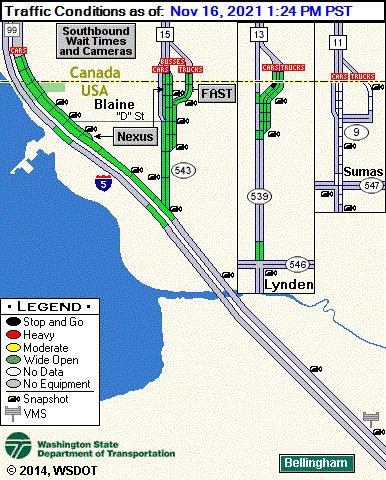 Map Showing Current Traffic Conditions at the Sumas / Abbotsford (Huntingdon) Border Crossing Area
To view the traffic conditions at the Blue Water Bridge border crossing select "View Larger Map".

Washington State and British Columbia Travel Alerts
Below are travel alerts issued by the Washington State Department of Transportation for the area around the border crossing.

Silver Alert

Statewide
- The Washington State Patrol is asking for the public's assistance in locating the following vehicle, a 2003 Gold Mazda Protege with Washington License # BPE 2921. If you have any information about this vehicle, please, call 911 immediately. Last Updated: 9/28/2020 1:47 PM
HIGHEST IMPACT

I-5 Southbound
- On the I-5 southbound off-ramp to SR 104 (MP 178) there is a collision blocking the ramp. The Incident Response Team, Tow Assistance, and the State Patrol have arrived on the scene. Last Updated: 9/28/2020 12:31 PM More Info
At milepost 178
MODERATE IMPACT

SR 522 Westbound
- On SR 522 westbound from NE 137th St (MP 4) to NE 135th St (MP 4) the right lane is closed due to roadwork. Last Updated: 9/28/2020 9:59 AM More Info
From milepost 4 to milepost 4
MODERATE IMPACT

SR 522 Eastbound
- On SR 522 eastbound at NE 98th St (MP 2) the right lane is closed due to roadwork. Last Updated: 9/28/2020 9:46 AM More Info
At milepost 2
MODERATE IMPACT

I-90 Eastbound
- On I-90 eastbound just west of Rainer Ave (MP 3) the left lane is closed due to roadwork. Last Updated: 9/28/2020 8:59 AM More Info
At milepost 3
MODERATE IMPACT

I-90 Both Directions
- Flammable cargo is prohibited on I-90 eastbound & westbound from Rainier Ave S (MP 3) to Island Crest Way (MP 7). Last Updated: 9/28/2020 7:23 AM More Info
From milepost 3 to milepost 8
MODERATE IMPACT

SR 9 Northbound
- Monday, Sept. 28 - A single lane of northbound SR 9 at Rutsatz Road will close from 7 a.m. to 5 p.m. for guardrail installation. Last Updated: 9/25/2020 3:19 PM More Info
At milepost 79
MODERATE IMPACT

SR 532 Both Directions
- Sunday, Sept. 27, to the morning of Friday, Oct. 2 - A single lane in each direction of SR 532 between 72nd Avenue Northwest and I-5, as well as between East Camano Drive and Smith Road, will close from 8 p.m. to 6 a.m. nightly. Last Updated: 9/25/2020 3:12 PM More Info
From milepost 6 to milepost 11
MODERATE IMPACT

SR 203 Both Directions
- Northbound & southbound traffic is alternating on SR 203 at NE 88th St (MP 9) due to roadwork. Last Updated: 9/21/2020 6:26 PM More Info
At milepost 8
MODERATE IMPACT

SR 530 Both Directions
- Eastbound & westbound traffic is alternating on SR 530 at 115th Ave NE (MP 25) due to roadwork. Last Updated: 9/1/2020 9:49 AM More Info
At milepost 25
MODERATE IMPACT

I-5 Northbound
- Saturday, Aug. 29 - A single lane in each direction of I-5 will close from 8 a.m. to 3 p.m. Last Updated: 8/28/2020 5:27 PM More Info
At milepost 228
LOWEST IMPACT

US 97A Both Directions
- On US 97A at milepost 230 (junction of US 97A/SR 971), Monday through Thursday from 7 a.m. to 5 p.m., expect shoulder closures and occasional flagger controlled traffic where the contractor is installing new electronic signage. Last Updated: 9/25/2020 1:07 PM More Info
At milepost 230