Page Updated:
Real-time
This page contains current information on traffic conditions, border wait times, weather and road conditions for the Sumas / Abbotsford (Huntingdon) border crossing. You may need to refresh this page periodically to get current information. For complete information on this border crossing including times of operation and contact information see our Sumas / Abbotsford (Huntingdon) page.
Current Road Conditions in Michigan and the Province of Ontario
We have special pages showing all current road advisories for the State of Washington and the Province of British Columbia. These pages show problems such as roadway snow or ice, lane closures or blockages, road restrictions, traffic problems, and roadwork.
Wait Times at the Sumas / Abbotsford / Surrey Pacific Highway Border Crossing
Current Wait Times at the Sumas / Abbotsford Border Crossing
Source: CBSA and CBP
Estimated wait time to reach the inspection booth. Updated hourly.
Entering the U.S. at Sumas – Open 24 hrs/day
Last Update: At 4:00 pm PDT
10/24/2021
Entering Canada at Abbotsford – Huntingdon
Last Update: 2021-10-24 15:01 PDT
Personal Vehicles
no delay
No delay
NEXUS
Lanes Closed
Ready Lane
Lanes Closed
Commercial Vehicles
no delay
No delay
FAST
N/A
Webcams at the Sumas and Abbotsford-Huntingdon Border Crossing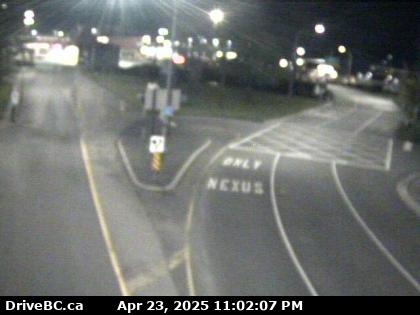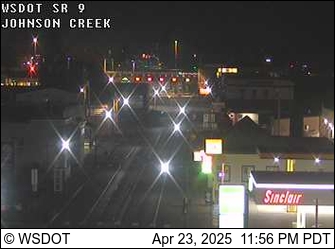 Traffic Conditions at Sumas Abbotsford-Huntington Border Crossing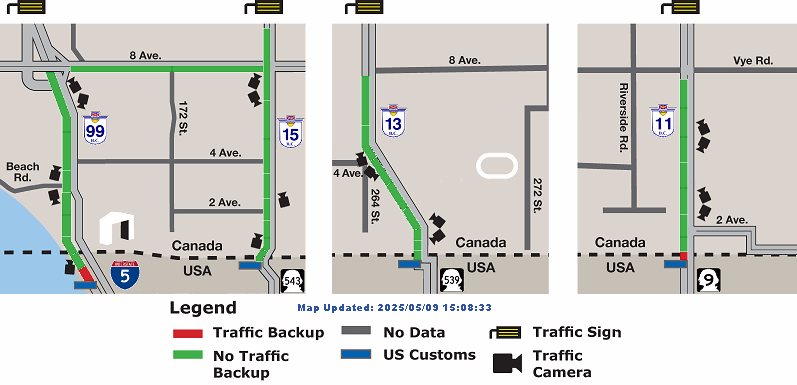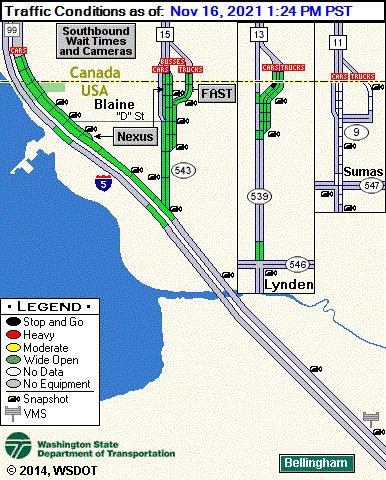 Map Showing Current Traffic Conditions at the Sumas / Abbotsford (Huntingdon) Border Crossing Area
To view the traffic conditions at the Blue Water Bridge border crossing select "View Larger Map".

Washington State and British Columbia Travel Alerts
Below are travel alerts issued by the Washington State Department of Transportation for the area around the border crossing.

HIGHEST IMPACT

I-5 Southbound
- Update 3:43 PM : On I-5 southbound at Stewart St (MP 166) there is a collision partially blocking the right lane. The State Patrol has arrived on the scene. Last Updated: 10/24/2021 3:43 PM More Info
At milepost 166
HIGHEST IMPACT

SR 520 Westbound
- Update 3:35 PM : On SR 520 westbound at NE 51st St (MP 11) there is a collision blocking the right general purpose lane and the HOV lane. Medical Aid and Fire Assistance have arrived on the scene. Last Updated: 10/24/2021 3:35 PM More Info
At milepost 11
HIGHEST IMPACT

SR 522 Both Directions
- On SR 522 eastbound & westbound just west of Echo Lake Rd (MP 18) there are fallen tree(s) blocking all lanes. The State Patrol has arrived on the scene. Last Updated: 10/24/2021 3:34 PM More Info
At milepost 18
HIGHEST IMPACT

I-405 Southbound
- On the I-405 southbound off-ramp to NE 70th Pl (MP 17) there are fallen tree(s) partially blocking the ramp. Last Updated: 10/24/2021 3:24 PM More Info
At milepost 17
HIGHEST IMPACT

I-5 Southbound
- On the I-5 southbound on-ramp from 41st St (MP 193) there is a collision partially blocking the ramp. The State Patrol has arrived on the scene. Last Updated: 10/24/2021 3:23 PM More Info
At milepost 193
HIGHEST IMPACT

SR 542 Both Directions
- On SR 542 eastbound & westbound just north of Canyon Creek Rd (MP 38) there are fallen tree(s) blocking all lanes. Last Updated: 10/24/2021 2:55 PM More Info
At milepost 38
HIGHEST IMPACT

SR 542 Both Directions
- The road to Artist Point is closed to vehicle traffic for the winter season just beyond the upper Mt. Baker Ski Area lodge at milepost 54.7. Last Updated: 10/8/2021 8:13 AM More Info
From milepost 54 to milepost 58
HIGH IMPACT

SR 513 Northbound
- Sunday, Oct. 24, to the morning of Friday, Oct. 29: The northbound Montlake Bridge will close to vehicle traffic from 9 p.m. to 5 a.m. nightly with a signed detour to northbound I-5. The southbound side will be reduced to one open lane. Last Updated: 10/22/2021 2:10 PM More Info
From milepost 0 to milepost 1
HIGH IMPACT

I-5 Both Directions
- Friday, Sept. 24 until further notice - The Interstate 5 Silver Lake Rest Area is closed for maintenance indefinitely. There is no access for recreational vehicle dumping at this location. Last Updated: 10/15/2021 12:20 PM More Info
At milepost 188
HIGH IMPACT

I-5 Both Directions
- Beginning Friday, October 15, until further notice - The Interstate 5 Smokey Point Rest Area will close for both directions for at least three months due to staffing. Last Updated: 10/15/2021 12:20 PM More Info
At milepost 207
HIGH IMPACT

SR 520 Both Directions
- Flammable cargo is prohibited on SR 520 eastbound & westbound from Montlake Blvd (MP 1) to 84th Ave NE (MP 5). Last Updated: 9/13/2021 7:00 AM More Info
From milepost 1 to milepost 5
MODERATE IMPACT

SR 520 Both Directions
- On SR 520 eastbound & westbound from I-5 (MP 0) to 92nd Ave NE (MP 5) all lanes are closed due to roadwork. Last Updated: 10/23/2021 5:22 AM More Info
From milepost 0 to milepost 6
MODERATE IMPACT

I-5 Westbound
- Saturday, October 23, to the morning of Friday, October 29 – On westbound SR 520 to southbound I-5 mainline ramp will be closed. Last Updated: 10/22/2021 2:13 PM More Info
From milepost 168 to milepost 169
MODERATE IMPACT

I-5 Northbound
- Saturday, October 23, to the morning of Friday, October 29 – On northbound I-405, the right shoulder between Boylston Ave and Roanoke will be closed. Last Updated: 10/22/2021 1:59 PM More Info
From milepost 168 to milepost 169
MODERATE IMPACT

SR 538 Both Directions
- Friday, Oct. 15 through Friday, Nov. 5 - 24/7 single lane closure in each direction from N 35th Street to N 40th Place. Last Updated: 10/22/2021 12:17 PM More Info
From milepost 2 to milepost 3
MODERATE IMPACT

SR 20 Both Directions
- Monday, Oct. 11 through Friday, Oct. 29 - Intermittent single lane closure between Grassmore Road (milepost 87.53) and Dalles Road (milepost 88.94) from 7:00 a.m. to 6 p.m. each day. Last Updated: 10/22/2021 11:54 AM More Info
From milepost 88 to milepost 87
LOW IMPACT

US 2 Both Directions
- The Iron Goat Rest Area on US 2 at milepost 58, approximately 9 miles east of Skykomish, is closed for the winter. Last Updated: 10/19/2021 1:17 PM More Info
At milepost 58