This page contains current information on traffic conditions, border wait times, weather and road conditions for the Sumas / Abbotsford (Huntingdon) border crossing. You may need to refresh this page periodically to get current information.
For complete information on this border crossing including times of operation and contact information see our Sumas / Abbotsford (Huntingdon) page.
Wait Times at Sumas Abbotsford Border Crossing
Entering the U.S. at Sumas
Entering Canada at Abbotsford

Personal Vehicles
At 2:00 pm PST
10 min delay
4 lane(s) open
5 minutes
NEXUS
Lanes Closed
Ready Lane
N/A
Commercial Vehicles
At 2:00 pm PST
no delay
1 lane(s) open
No delay
FAST
N/A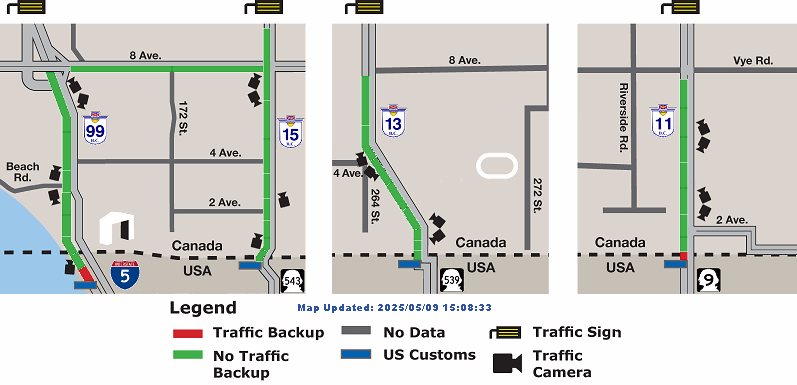 Map Showing Current Traffic Conditions at the Sumas / Abbotsford (Huntingdon) Border Crossing Area
To view the traffic conditions at the Blue Water Bridge border crossing select "View Larger Map".

Washington State and British Columbia Road Conditions
Below are travel alerts issued by the Washington State Department of Transportation for the area around the border crossing. We also have special pages that show road conditions in Washington and British Columbia including weather problems such as snow or flooding, major accidents, construction and other events that may affect your travel.

MODERATE IMPACT
SR 513 Both Directions
- On SR 513 northbound & southbound at Mountlake Bridge (MP 0) all lanes are closed due to maintenance. Last Updated: 2/16/2019 6:25 AM More Info
At milepost 0
MODERATE IMPACT
SR 20 Both Directions
- The North Cascades Highway closed for the season at 4 p.m. Wednesday, November 28 between Milepost 134 at Diablo Overlook, east of Newhalem and Milepost 171 at Silver Star Creek west of Mazama. The highway typically reopens in early May. Last Updated: 12/21/2018 1:52 PM More Info
From milepost 134 to milepost 171
MODERATE IMPACT
US 2 Both Directions
- Iron Goat Rest Area on US 2 at milepost 58, is closed for the season, until further notice. Last Updated: 11/1/2018 3:23 PM More Info
At milepost 58
LOW IMPACT
SR 9 Both Directions
- Monday, Jan. 14 through Friday, March 1 - Puget Sound Energy crews will close one lane of SR 9, north of Sedro-Woolley, weekdays from 9 a.m. to 3 p.m. in small work zones between Kalloch Road and the Whatcom/Skagit county line for tree trimming work. Flaggers will alternate traffic through the open lane. Last Updated: 1/11/2019 5:26 PM More Info
From milepost 59 to milepost 67
Click an icon below to print, email, or share this page with friends, family, or colleagues: