The Seaway International Bridge actually consists of two separate bridges – one that spans the St. Lawrence Seaway, and the other connects the City of Cornwall to Akwesasne (on Cornwall Island). The bridge connects highway 37 in Massena, New York, to Highway 138 in Cornwall, Ontario. This bridge was re-named the Three Nations Bridge Crossing in recognition of all 3 Nations it connects: Canada, Akwasasne, and the U.S.A.
Our Seaway International Bridge border crossing page has complete information about this border crossing, including hours of operation, road conditions, current traffic information and more.
Seaway International Bridge Details
Tolls are collected going in both directions on the bridge.
There are two lanes of traffic on the bridge – one southbound and one northbound.
There are sidewalks that can be used by both pedestrians and cyclists, and no tolls for either pedestrians or cyclists.
You can pay the tolls using U.S. or Canadian dollars, a Seaway Transit Card, or a Seaway Corporate Card. These cards provide a discount to the normal toll.
Payments are accepted in either Canadian or American funds. Mixed Canadian and American currency will be considered as Canadian Funds.
Commercial vehicles are required to travel with all axles lowered, regardless of weight.
The use of the Seaway Transit Card provides patrons with a 10% discount on toll rates.
Current Tolls on the Seaway International Bridge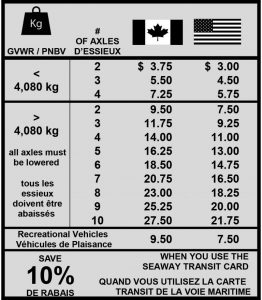 Seaway International Bridge Contact Information
The Seaway International Bridge is managed by the Seaway International Bridge Corporation. The administration building is located on Cornwall Island.
Mailing Address
P.O. Box 836
Cornwall, Ontario
K6H 5T7
Physical Address
200 Akwesasne International Road
Akwesasne
Phone: 613-932-6601
Fax: 613-932-9086
Email: [email protected]